Texas waterfowl hunts in the Panhandle is a well kept secret. Our playa lakes fill each fall with thousands of migrating ducks, geese and sandhill cranes.
TEXAS WATEFOWL HUNTS IN THE PANHANDLE
Ken and his Chessie, 'Miss G' enjoy Texas waterfowl hunting as much as anything he does. Consider joining them this season on a great Texas duck hunt.
WATERFOWL HUNTING IN THE TEXAS PANHANDLE
Waterfowl hunts are great in the Texas Panhandle We offer fully guided duck, goose and Sandhill crane hunting on the rolling plains of the Texas Panhandle. Several counties in the Panhandle provide enough birds to be affectionately referred to as the land of waterfowler's dreams (it's estimated that there are some 700,000 wintering geese and 500,000 wintering sandhill cranes-RIB-EYE IN THE SKY – BELIEVE IT)! Join us for incredible waterfowl hunts!
WATERFOWL HUNTS are generally scheduled in JANUARY of each year following the federally mandated waterfowl seasons.
Recognized as one of the first stopping points for all migrating waterfowl, these birds are ready to rest and roost when they arrive. Texas hunting offers thousands of acres of peanut fields, maize, wheat, and CRP keep the ducks and geese well fed; playa lakes spring up as rain occurs as a watering source. Our duck hunting terrain can vary from county to county, year to year based on rainfall.
Each year we see thousands of lesser and greater Canadian geese, greenheads, pintails and Sandhill crane that call this county home during the months of November through February. Celebrating our 22nd year guiding waterfowl hunts in the Texas Panhandle! Want to join us on one of our great waterfowl hunts? Enjoy the slideshow from over the years with a few of our guests.
We are an honest, hard working outfit, but make no guarantees related to hunt success! We have no control over adverse weather conditions such as heavy rain, snow, heat and drought, floods or wildfires that Mother Nature may impose on us! Nor do we have any control over a hunter's physical conditioning or shooting abilities! We do guarantee to do everything humanly possible to see that you have a safe, successful, and memorable experience while hunting with All American Outfitter! We believe that hunting success is a great reward for good planning, reasonable preparation and serious efforts by all involved! A little bit of "Lady Luck" doesn't hurt anything either!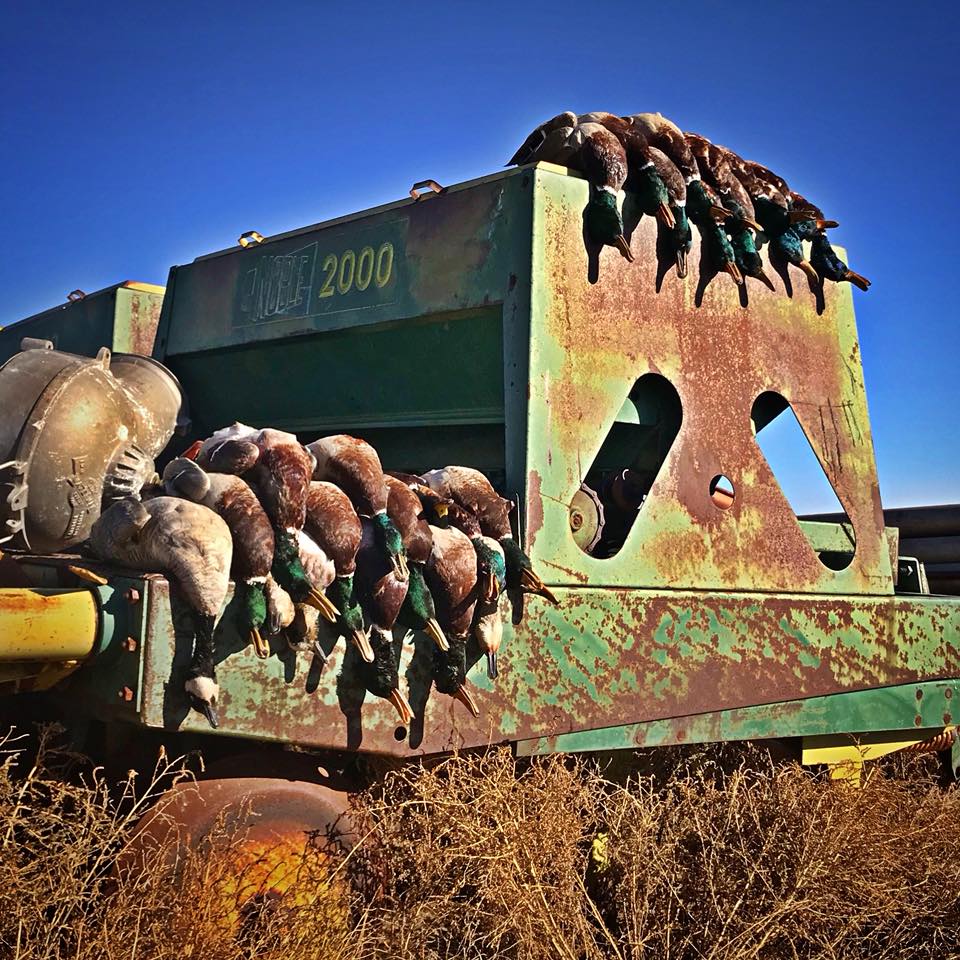 About our area – things of interest – buy your hunting license
SANDHILL CRANE, DUCKS AND GEESE TEXAS WATERFOWL HUNTS ARE GREAT!
The number of waterfowl we hunted was incredible. New to hunting waterfowl on playa lakes but it was a blast, can't wait to re-book a Sandhill crane hunt for next season!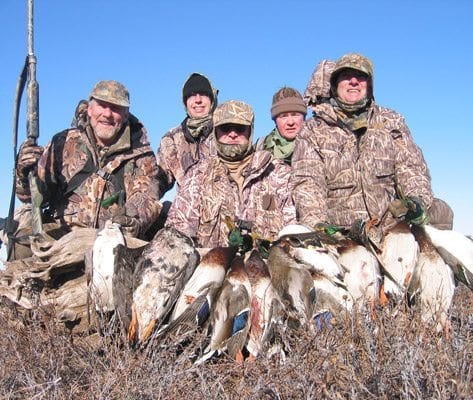 Prices vary for the different combination waterfowl hunts including sandhill crane, ducks and geese.
Duck/Chukar Combo Hunt ($1,200 per hunter, minimum 4 hunters to book a reservation)
Duck/Goose* Combo Hunt ($1,200 per hunter, minimum 4 hunters to book a reservation)
Sandhill Crane Hunt** ($1,250 per hunter, minimum 4 hunters to book a reservation)
2 night's lodging/2 full days of hunting on waterfowl hunts – Chukar hunt is similar to an English driven hunt.
All meals from evening of arrival thru lunch on day of departure
Guided with dog(s)
We will breast your game bird(s) and try and get them frozen prior to departure
Must have valid Texas Hunting License upon arrival (non-resident YOUTH license is just $7!) Link to online license ordering is on the PRICE LIST page of website
Must provide personal gear and transportation to AAO; once at AAO transportation will be provided during your hunt
Does not include any gratuity hunter wishes to leave for the staff
Nearest airport, AMA (Amarillo, TX) served by Southwest, American and others
THERE ARE NO TROPHY FEES OR ADDITIONAL CHARGES on waterfowl hunts. There are no surprises here. References furnished upon request
*Goose hunts are offered when geese are available in our area, if not available guests will duck hunt for 2 days.
** Sandhill crane hunts are EXTREMELY LIMITED each year and may involve travel to another area where the birds have migrated too. Hunter will provide his own transportation if hunt is farther than 50 miles from the hunting lodge.
THE DETAILS…
On all hunts everyone is expected to help put out and pick up the decoys. If everyone pitches in it can be accomplished in 30 minutes or less. If you can not or do not want to help with the decoys there will be an additional $50 charge per hunter.
Minimums are required to reserve a date. If do not have enough hunters to meet the minimum call us and we can more than likely match you up with other small groups to make a hunt. If we mix groups together there will be no more than six hunters in the spread. Hunting dates are reserved on a first come first serve basis with a 50% deposit required at the time you make the reservation to hold your date. Call or email us for details.
Deposits are non-refundable. Please be sure of the number in your party and the date before you send in your deposit as there are no refunds. Also the deposit you send is for the number you specify. For example if you send a deposit for six hunters and only four show up, the other two hunter's deposit is forfeited and can not be applied to the remaining balance on the four hunters.

CALL KEN AT 806.676.4610 FOR DETAILS!
TIPPING information (click here)
We don't require tips though they are customary as with any service you are provided. Tips are very much appreciated. The amount that you tip your guide/lodge staff usually depends on your level of satisfaction with them and the trip. A 10% to 20% tip of the hunting package is customary. When you offer your tip to the guide/lodge staff, please give cash.
If you share your tip with Travis he will divide the tip among all the staff fairly. If you are not planning on leaving a customary tip please talk to Travis and let us know why.