Our mule deer hunts are available in the Texas Panhandle. Spot and stalk on most mule deer hunts.
Texas Mule Deer Hunts in the Panhandle –

scroll down

for recent photos.
We offer guided mule deer hunts in the Texas Panhandle with meals and lodging included. Hunting is the owner's only business and All American Outfitter has been doing it for over 25 years.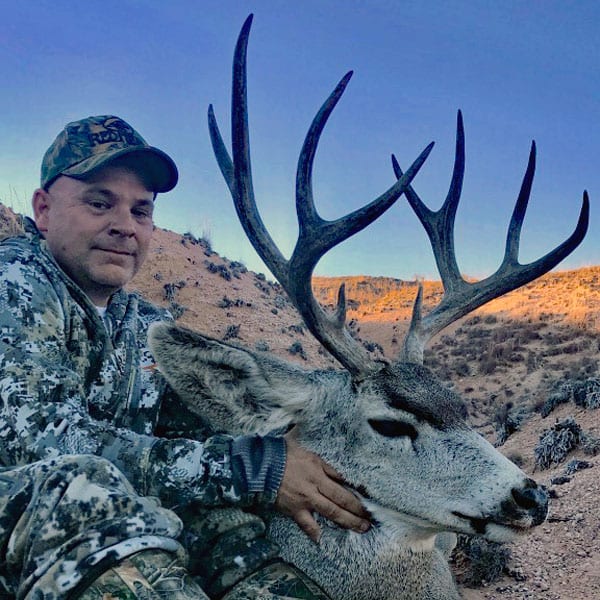 Texas mule deer hunts take place in the central Texas Panhandle. These mule deer hunts are primarily spot and stalk hunts, but as trophy whitetails are also commonly in the rut during mule deer season, the chance of taking a trophy whitetail is also a possibility. Our mule deer hunters have the option of taking either.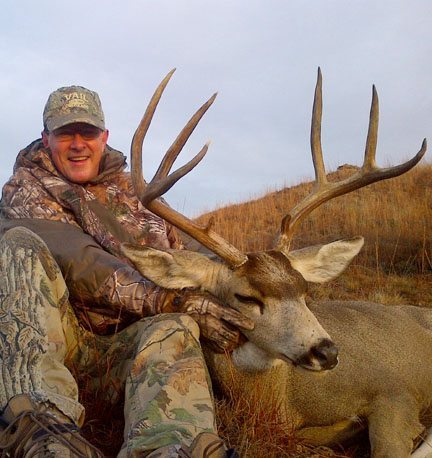 Routinely we take mule deer bucks weighing between 300-350 lbs with antler scores ranging from 155-185 B&C. We hunt several Panhandle ranches with hundreds of acres of mesquite flats, sage/grass canyons, and Cottonwood bottoms. We've been hunting most of these ranches for over 20 years! Check out our Texas Panhandle whitetail deer hunts.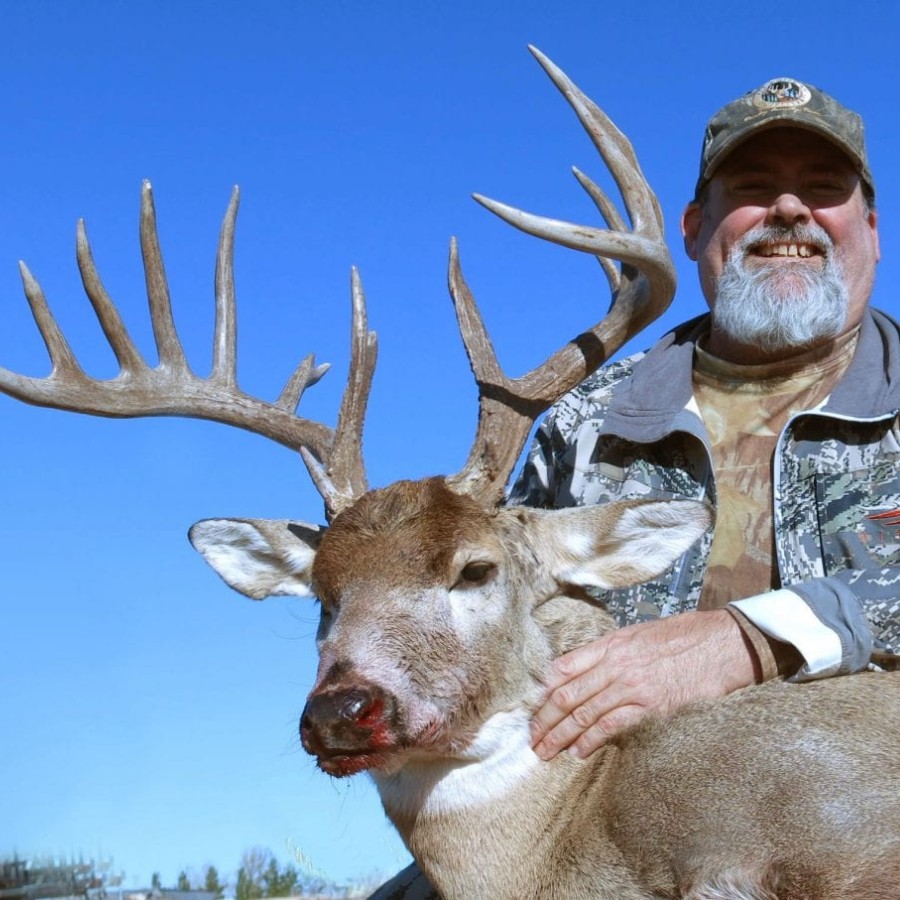 Some of our mule deer hunting guests choose to shoot whitetail deer in addition to or instead of a mule deer during their hunt. We allow our mule deer hunters the OPTION of harvesting a whitetail buck OR a mule deer buck (since it's usually during the whitetail rut). And above, a 17 point whitetail that gross scores 184.75″ taken in 2015 by Paul Dillon during his mule deer hunt.
$5,000 FOR TEXAS MULE DEER HUNTS, PER HUNTER
Hunters on Texas mule deer hunts need the ability to shoot over 150 yards or further with confidence, but longer range marksmanship ability will improve your chances of success significantly. 
USUALLY, NO MORE THAN 6-7 DEER HUNTERS IN CAMP AT ANY ONE TIME.
Texas mule deer hunts include:
Meals from evening of arrival thru lunch on day of departure 
3 night's lodging (DOUBLE OCCUPANCY in guest rooms) / 3 days hunting
These are Semi-guided hunts. A guide will be split between 2 hunters. Hunter must determine whether or not to harvest animal, guide will not call the shot
Hunt includes quartering and freezing (when possible)
Must present valid Texas Hunting License upon arrival (not included in above price)
Must provide personal gear and transportation to AAO; once at AAO transportation will be provided during your hunt
Does not include any gratuity hunter wishes to leave for the staff
Nearest airport, AMA (Amarillo, TX) served by Southwest, Spirit, Delta, American and others
THERE ARE NO TROPHY FEES OR ADDITIONAL CHARGES – there are no surprises here. References furnished upon request.

 
NON-HUNTING GUESTS
$150 per day per person.  Non-hunters are welcome when we have space available.
CALL TRAVIS AT 806.676.4610 FOR DETAILS!

TIPPING information (click here)
We don't require tips though they are customary as with any service you are provided. Tips are very much appreciated. The amount that you tip your guide/lodge staff usually depends on your level of satisfaction with them and the trip. A 10% to 20% tip of the hunting package is customary. When you offer your tip to the guide/lodge staff, please give cash.
If you share your tip with Travis he will divide the tip among all the staff fairly. If you are not planning on leaving a customary tip please talk to Travis and let us know why.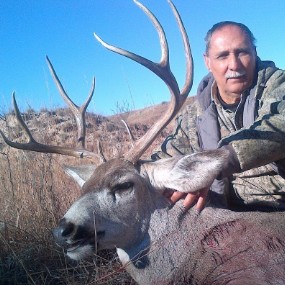 We are an honest, hard working outfit, but make no guarantees related to hunt success! We have no control over adverse weather conditions such as heavy rain, snow, heat and drought, floods or wildfires that Mother Nature may impose on us! We can't control a hunter's physical conditioning or shooting abilities. We do guarantee to do everything humanly possible to see that you have a safe, successful, and memorable experience while hunting with All American Outfitter!
We believe that hunting success is a great reward for good planning, reasonable preparation and serious efforts by all involved! A little bit of "Lady Luck" doesn't hurt anything either!
2019 TEXAS MULE DEER PHOTOS and 2018 MULE DEER PHOTOS
Subscribe to Our Newsletter