NIGHT VISIONS HOG HUNTS
WE NO LONGER OFFER WILD HOG HUNTS

  BUT WE HIGHLY RECOMMEND TIM HERBERT!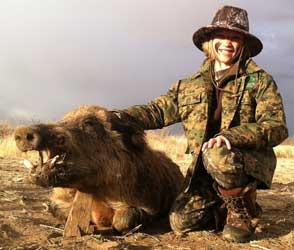 Texas mule deer hunts take place in the central Texas Panhandle. These mule deer hunts are primarily spot and stalk hunts, but as trophy whitetails are also commonly in the rut during mule deer season, the chance of taking a trophy whitetail is also a possibility. Our mule deer hunters have the option of taking either.
TEXAS PANHANDLE HOG HUNTS with Tim Herbert
Wild Hog hunts in the Texas Panhandle with Tim are exciting! $450 per person/ per night *MINIMUM -2- persons to book Texas Panhandle hog hunts — Tim will pick you up at a local motel (listed below) and take you out to his lodge. You'll be given a 1 hour seminar on the equipment and hunt and then go out and practice with the equipment. Once it gets dark, you'll head out to the peanut circles and locate the hogs; get off the truck and go take care of business! It's a blast!
PRICES SUBJECT TO CHANGE – CALL TIM HERBERT BELOW.
If you would like to try all night WILD hog hunting with 3rd Generation American made night optics mounted on AR-15's –Cost is $450 PER HUNTER, MIN. -2- HUNTERS TO BOOK THIS – call Tim Herbert at 806-881-4997